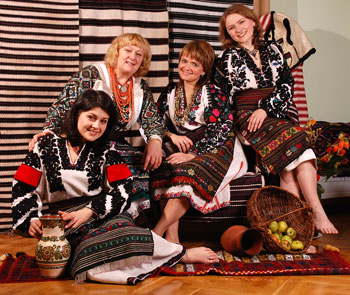 Concerning about preservation of Ukrainian traditions, Vira Matkovska managed to collect samples of unique holiday shirts for women and men from each village of Borshchiv area.

In general, private collection is more than half of thousands of unique attractions that have unique historical and artistic value. Qualitative and quantitative indicators of a private collection in its entirety to help trace the processes that are important for understanding the continuity of folk art traditions of the Ukrainian people.

Their exceptional feature is unique archaic patterns and techniques as they are embroidered. Some of them have already lost, for example, "kolodky".

The feature collection that distinguishes it among other museums and private collections of Ukrainian folk art, it is the presence in the middle of XX century shirts. This group of monuments has not become an appropriate subject of interest museum professionals, art historians, found no clear assessment among collectors. V. Matkovska or not the very first drew attention to them.

In addition to traditional shirts collection complement other components of national costumes and fabrics leisure: female waist dress - homespun wool wraps, zapaski, skirts "shalyanivky"; men pants with homespun hemp cloth, covers decorated with applique and embroidery, fur sleeveless "leybyky"; women sleeveless of embroidered velvet, silk, beads, jewelry designs, homespun tablecloths, embroidered sheets and pillowcase.

The oldest monument in the collection from the end of the nineteenth century. It is unsurpassed for its originality and artistic qualities of wedding and holiday designs women's shirts that have become rarities textbook not only for Ukraine but also abroad. They have long admired artists, ethnographers, connoisseurs of folk art, noting the uniqueness of technology, ornamental variety and scale of specific colors, elaborated with a needle and wool yarn in black. In the early twentieth century. White shirts with black sleeves create an unforgettable experience for foreign travelers and tourists.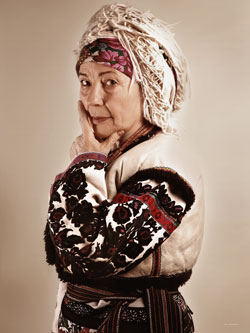 Borshchiv's "black" shirt of sewn from carefully bleached hemp canvas. If unassuming linen does not avoid clay and sand, the hemp requires fertilized land and be fat. Actually black skirts gave the best brands in Ukraine hemp and hemp with it. So, hemp cloth, carefully bleached on the banks of the Transnistrian under gentle sunlight - one of the features of women's festive shirts.

Exclusiveness embroidered women's Borshchiv's shirts early twentieth century. expressed in fibers and devices, which are embroidered shirts. Only on Transnistria, especially in villages of Borshchiv, long embroidered black and red woolen thread.

Embroidered on the ornamental composition of setting takes from 12 to 19 cm wide, and of setting in - 5 - 11 cm wide. In addition, all embroidered sleeve, front stall ("poperedni pohrudky "- with. Ustya) and rear ("zadni pohrudky", "zaplichka" - Kudryntsi, "zaplichkove"- Bilche-Zolote). Cut the neck and sleeves edges tightly fixing special stitch cotton thread black. Hem of the land under doing brass "tsyrk". Embroidery on sleeves and condition performed woolen thread "bavna" technique pidstelenyy cross "pad", string openwork. All of the equipment, except "kolodky", the late nineteenth century. were known all over Ukraine. Embroidery "kolodky" - skirts prerogative Transnistrian region, particularly in the western edge of this cell was Borshchiv's embroidery.